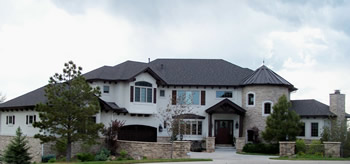 Located in the southeastern-most corner of the Denver metro area, Parker is about 20 miles from downtown Denver and a commute of just minutes to the Denver Tech Center and Park Meadows Mall. Technically classified as a "town," Parker has a population estimated in 2008 at about 43,500.
The town encompasses 14.6 square miles of prime real estate. A town large enough to offer all the amenities you look for in a city, Parker is also small enough that you can get to know your neighbors. It definitely has a small town feel and atmosphere. As a community, the town annually hosts Parker Days with good food, fun and Carnival rides for the children. During the summer, the Chamber of Commerce hosts the Parker Chamber Picture Show, a free, family movie event in the park. There are also Wine Walks in Old Town Parker, golf tourneys, and other activities that help bring the community together.
It's an ideal setting for luxury homes, of which there are many in this surprisingly rural town so conveniently close to the city. Panoramic mountain views and large lots set Parker apart as a jewel of Douglas County.
Parker real estate is known for its generous covering of gamble oak groves and Ponderosa pine forests along with its expansive open spaces.
Real estate in Parker, Colorado, doesn't get any more desirable than these three serene, exclusive communities.
Local Business Links
Parker Area Schools
Park Meadows Mall
Parker Hospital
Children's Hospital
Pinery Country Club
Colorado Golf Club