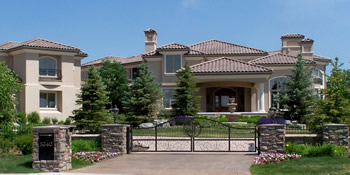 Cherry Creek, bordered by University Boulevard and Greenwood Village, Colorado
is an ideal place for families who are looking
for an upscale but relaxed environment where they can live life to the fullest. Stretching from Clarkson Street to Dayton Street in the west and the east, respectively, and Belleview Avenue and Orchard Road to the north and south, Greenwood Village real estate also includes homes within the Interstate 25 corridor from Belleview to Arapahoe Road. Dozens of parks, miles of trails, and exceptional schools make Greenwood Village a wonderful place to raise a family and enjoy life together.
Greenwood Village homes are designed by some of Colorado's finest homebuilders, and are made with families in mind. Homes in Greenwood Village are beautiful, shaded by trees and set on quiet neighborhood streets. Easy access to greenbelts, parks, and community centers lend Greenwood Village a uniquely family-friendly atmosphere.
Although real estate in Greenwood Village is largely residential, shopping centers, movie theatres, gyms, and great restaurants can be found throughout the area, making it easy for residents to enjoy modern conveniences without leaving their community.
Widely considered to be the best school district in the state of Colorado, Cherry Creek School District serves all of Greenwood Village.
Schools in the Cherry Creek School District consistently report testing scores and graduation rates well above the national average.
Greenwood Village attracts some of the city's best teachers, and students in the community are guaranteed a top-notch education.
It's easy to see why Greenwood Village real estate is so highly sough-after. With spectacular schools, beautiful homes, and the ultimate in convenience, Greenwood Village continues to attract couples and families looking for their dream home.