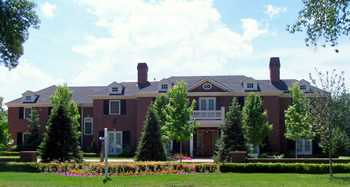 Cherry Hills Village is certainly one of Denver's most prestigious communities. Home to couples, families, and active retirees, Cherry Hills Village homes offer the ultimate in an upscale, family-friendly lifestyle.
Stunning homes line the quiet streets and extensive trail systems connect residents with parks, schools, and neighbors. Cherry Hills Village real estate is zoned almost exclusively for residential use, creating a peaceful place
for families to enjoy life to the fullest.
Framed by Hampden and Belleview to the north and south respectively, and by Clarkson and Happy Canyon to the west and east. The community spans over six and a half square miles and sits only six miles south of downtown Denver. Although there is virtually no commercial zoning within Cherry Hills Village real estate, shopping opportunities are situated nearby in Cherry Creek, downtown Denver, and Park Meadows. Since the city was founded in 1945, voters have maintained an exclusive, private atmosphere in Cherry Hills Village, yet the community is so centrally located that modern conveniences are a mere minutes away.
Exclusive Recreation
Two exclusive country clubs operate in Cherry Hills Village, providing recreational opportunities to every member of the family. At Cherry Hills Country Club, which has hosted multiple PGA Championships, and the newer Glenmoore Country Club members enjoy amenities, top-notch golf courses, and spectacular mountain views.
Cherry Hills Village homes are among some of the city's most stunning. Large residential lots and impressive, beautiful architecture make Cherry Hills Village real estate some of the most sought-after in the Denver-Metro area. It's easy to see why so many families choose to buy a luxurious home in the private, prestigious setting of Cherry Hills Village. It's a wonderful place to enjoy the good life.