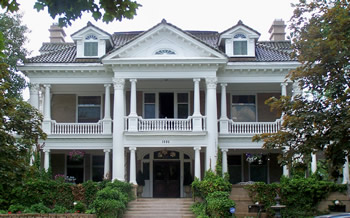 Nestled in the shadows of the Rocky Mountains, Boulder is a picturesque city of approximately 100,000 residents and home to the University
of Colorado. Boulder is located 30 miles northwest of Denver and an hour from Estes Park, gateway to Rocky Mountain National Park.
It's no surprise that Boulder keeps turning up on lists of best places to live. Situated amid a ring of open space, Boulder boasts an extensive network of biking, hiking and walking trails including a lengthy path alongside rushing Boulder Creek. The city, which enjoys 300 sunny days a year, is proud of its reputation as a bastion of liberal thought, environmentalism and physical fitness. It is home to charming Pearl Street mall, located between 11th and 15th streets, where you'll discover galleries featuring the works of local and well-known artisans, a rich variety of restaurants including many with outdoor dining areas and an eclectic mix of musical troubadours and magicians entertaining passersby.
Boulder has adopted a long-term Transportation Master Plan with a goal of zero percent increase in car traffic on city roads. This action will help preserve the area's clean air and high quality of life.
Boulder offers music concerts in the park throughout the summer, art shows and annual community events such as the Boulder Creek Festival and an International Film Festival. It is alive with activity all summer long.
Local Area Information
Boulder Valley School District
Pearl Street Mall
29th Street Mall
Boulder Medical Center